Redeeming Productivity Academy
Get more done for the glory of God
Learn
time management

from a

biblical perspective

so you can live a life that counts for eternity
🎓 Courses
💬 Community
▶️ Live Events
Stop drowning in tasks and commitments
When you don't know how to manage your time and prioritize you feel…
😮‍💨 Ineffective in your Christian walk because you are inconsistent in your devotions
😬 Anxious because you're disorganized
😫 Guilty because you know your life is a stewardship, but you're constantly wasting time
Join Redeeming Productivity Academy and get the skills, accountability, and plan to get you back on track.
✅
Your Membership Gives You Everything You Need to Steward Your Time More Effectively All For Just $29/month.
🎓 Courses
Access an ever-growing library of on-demand courses that mary practical skills with biblical theology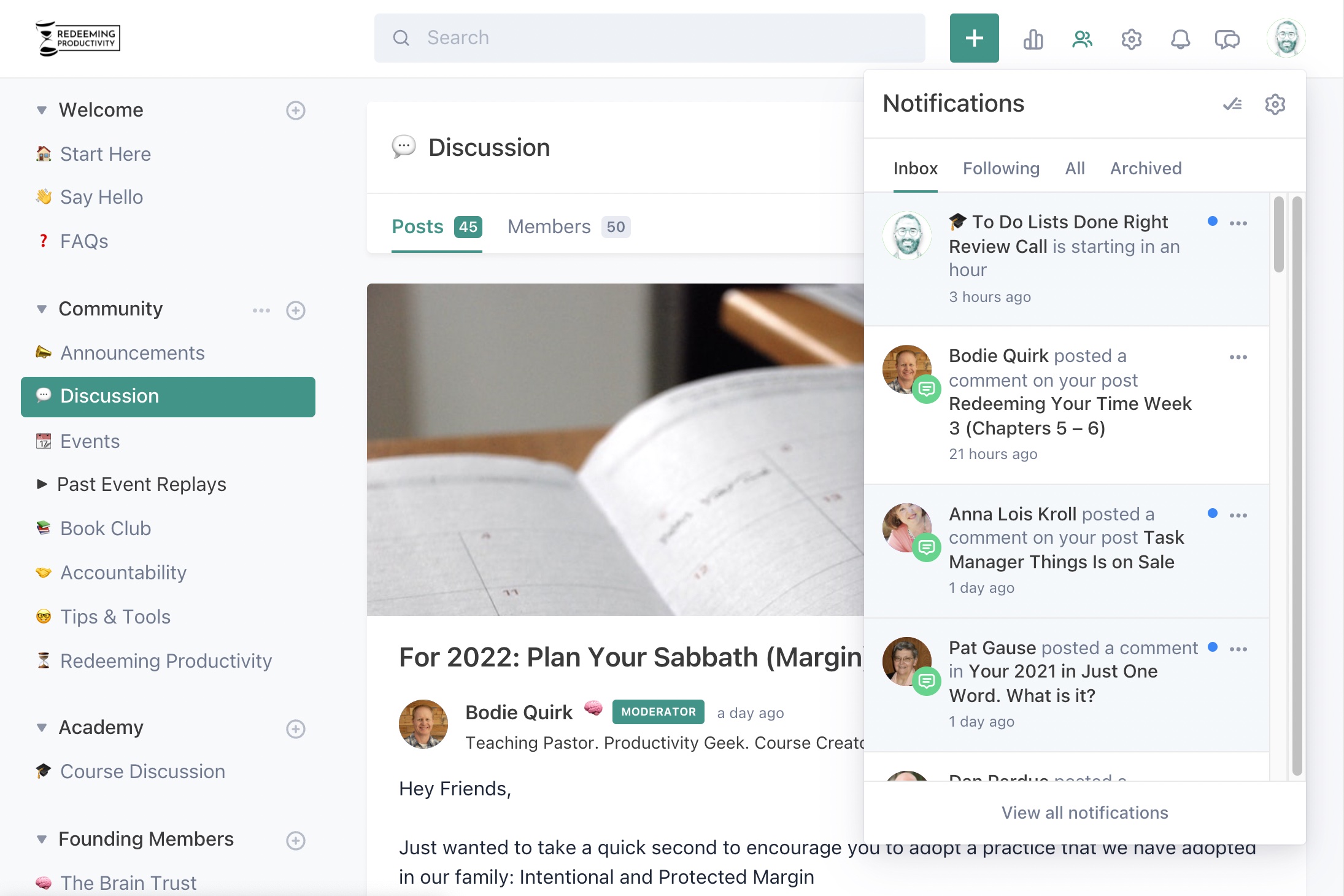 💬 Community
Get accountability from a group of productivity-minded believers who are on the journey with you
▶️ Live Events
Weekly office hours with Reagan
Expert-led workshops
Live book discussions
and more
Access to the entire Redeeming Productivity course catalog
Each Course Teaches a Practical Productivity Skill from a Rigorously Biblical Framework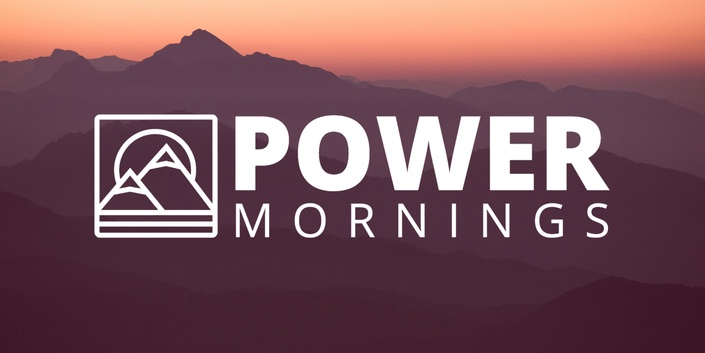 ✨ Our best selling course is now part of RPA for the first time ever
$97
A practical plan for establishing and maintaining daily habits for a God-glorifying life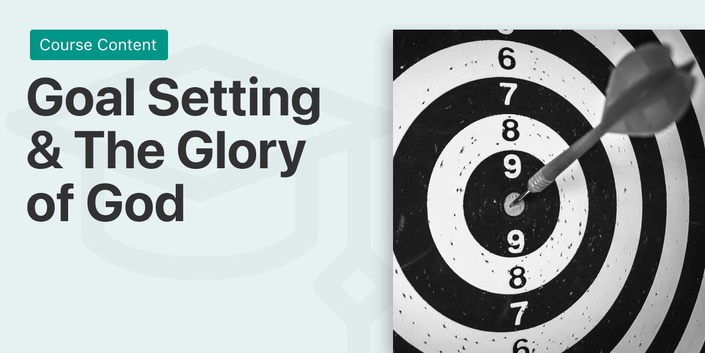 $97
How to set goals the God-honoring way—and actually reach them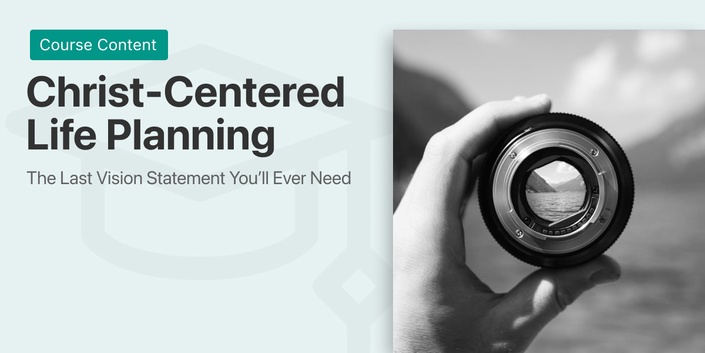 $97
Learn to articulate a clear vision for your life that will help you make better decisions and put Christ first in everything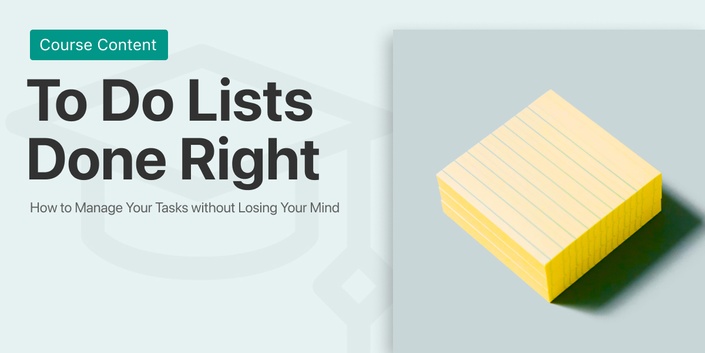 $97
Learn a practical system for keeping track of your commitments
$47
The theological foundations for God-honoring productivity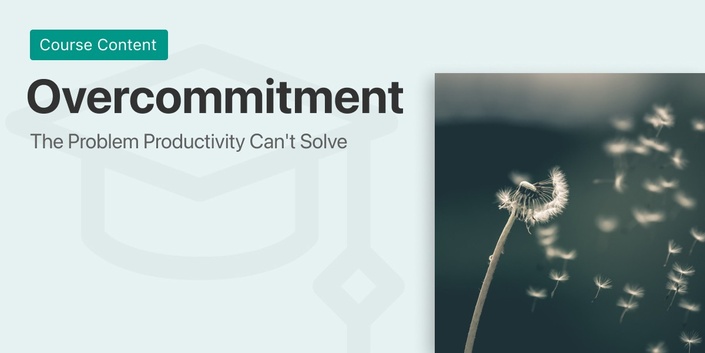 $47
Learn how to limit your commitments so you can give yourself more to the goals that matter most
Every course includes a workbook + exercises to help you implement what you're learning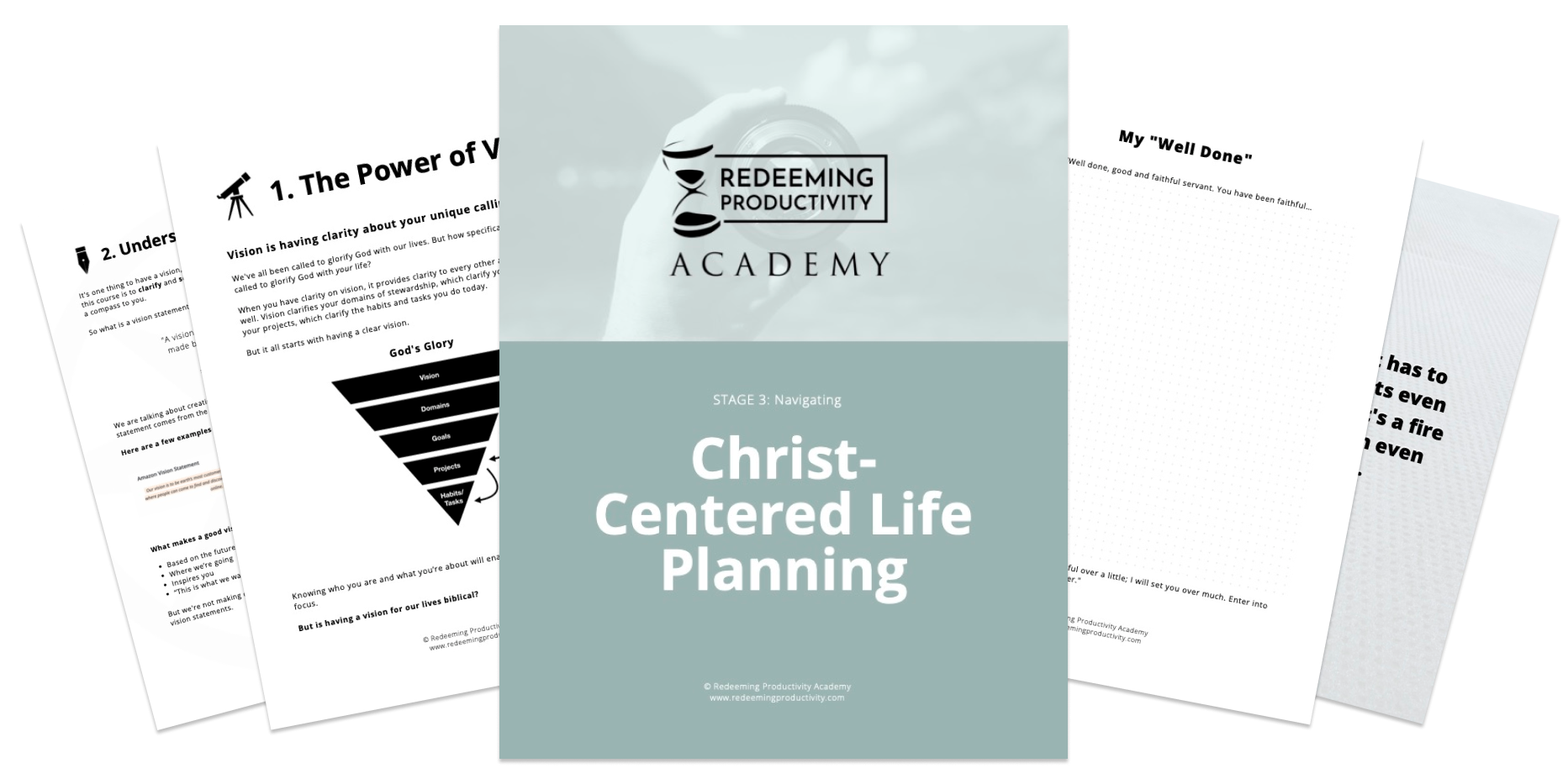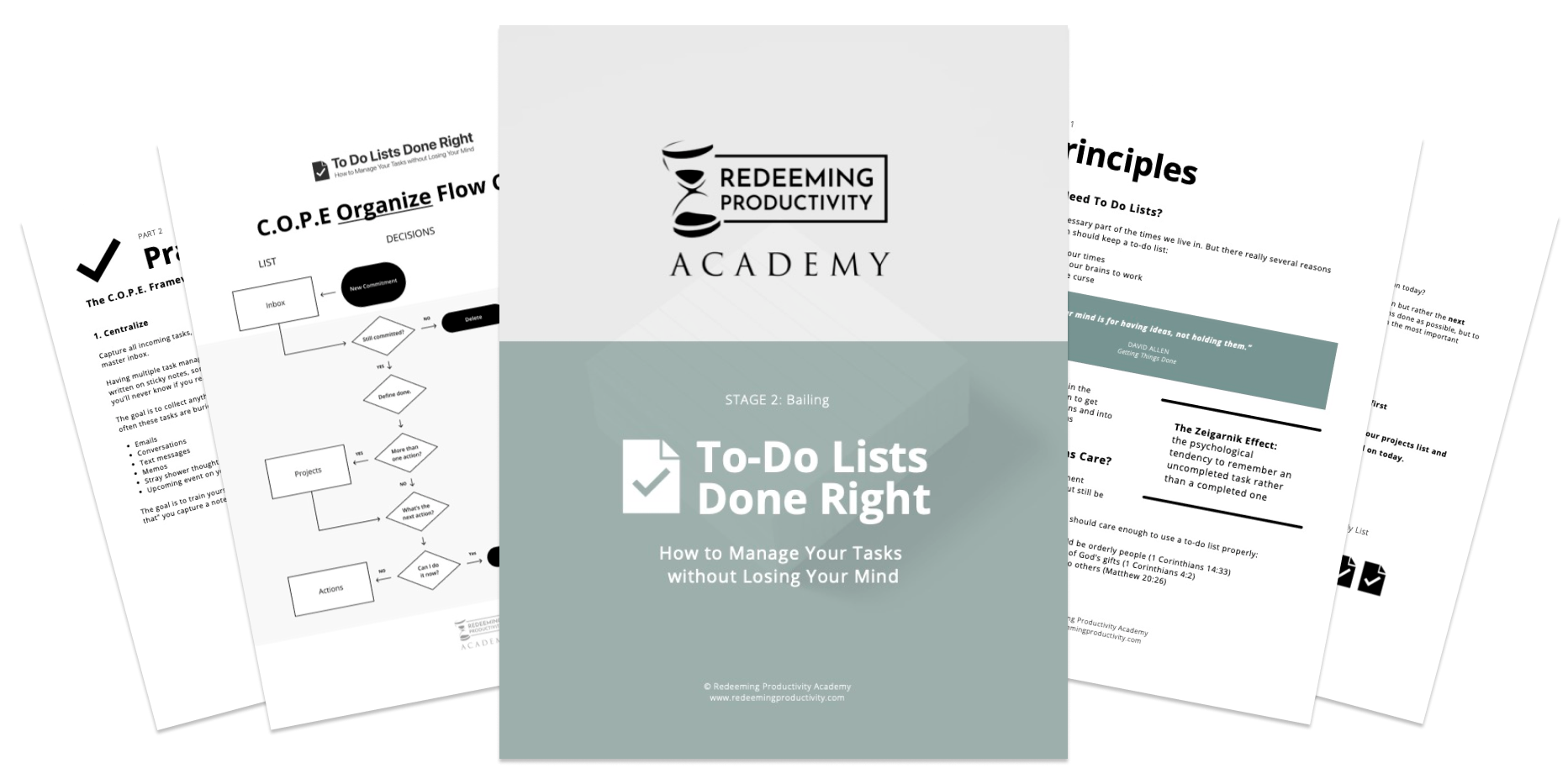 A $500 value
All included in your membership
With more courses being added all the time!
---
⭐️⭐️⭐️⭐️⭐️
What Current Members Have to Say About Redeeming Productivity Academy

RPA has been a major blessing to my walk with the Lord, personal life, and ministerial workflow.

The community is engaging and there to encourage one another as we walk together. The courses are not just platitudes. It's real life content to help real people who really want to glorify God in what they do.
Brad Pearce
Pastor
"While the content of the course is extremely practical, an added benefit of the RPA is being part of a community of like-minded people – I continue to be so encouraged!
Live calls with the group are phenomenal, workshops and the Book Club have been amazing as well!
Andrea Babayan
Project Manager
"Reagan and the community have helped me learn ways to focus better to the Glory of God. Learning side by side with everyone in the book club and trainings has been a pure joy.
This community is extremely beneficial, and valuable to me."
Aaron Endsley
Programmer
"I love the community of God's people loving and encouraging each other to do our best each day to the glory of God.
Being a part of this community has encouraged me to step up my walk with Christ and not settle for mediocre.

"
George Young
Productivity Junkie, Project Manager
"
Reagan curates the best of the literature about productivity and passes it through a Biblical filter

and then breaks it down to simple and wise principles that can be adjusted to your particular context."
Louis Rodriguez
Engineer
"If you're tired of trying to learn how to be more productive while having to filter out a godless worldview, then
this is the place for you.

"
Anna Kroll
Cataloging Librarian
---
⏰
Get Started Today
Join the Waitlist
Sorry, registration for Redeeming Productivity Academy is currently closed.
Sign-up to be notified when it reopens.
---
1️⃣ 2️⃣ 3️⃣
How to Subscribe to Redeeming Productivity Academy
1. Get Access
Subscribe and you'll get instant access to on-demand courses, live events, and the community. Cancel anytime.
2. Learn Time-Management
Start your journey from drowning in overcommitment to sailing with the productivity practices that put God first.
3. Grow in Your Work and Walk
As you get a handle on your time, you'll find your walk with the Lord growing and your work becoming more effective.
YOUR TEACHER
Reagan Rose
I know what it's like to feel ineffective in your Christian walk and want to show you a path to get back on track.
I was aimless, addicted to video games, and without purpose until I learned that God has called Christians to steward their lives intentionally.
Since then I've learned the skills—and the biblical foundation—for leading a productive life in my walk with God, in my work, in church, and in my relationships.
Now, for over five years I've been teaching people like you the biblical principles of productivity.
This Academy brings together the best of what I've learned with the accountability of a community of like-minded believers.
Your Academy Subscription Includes…
🎓 Productivity Curriculum
Actionable productivity training with exercises and assignments to implement what you learn—all taught from a biblical perspective.
🛠 The Tool Shed
Live monthly workshops taught by Reagan or another expert. You'll also get access to recordings of all previous workshops when you sign up.
🙋‍♂️ Office Hours with Reagan
Get access to Reagan via weekly office hours. Come talk about productivity problems, ask questions, and share what you're learning.
💬 Community
Come share the journey with other productivity-minded believers as we challenge, encourage, and pray for one another.
📚 Book Club
Each month we read through a book on productivity, discussing and discerning it together. Past books have included Deep Work by Cal Newport and Ploductivity by Doug Wilson.
🤝 Accountability
Participate in our monthly habit challenges and win prizes. Or commit to a goal and let the community hold you accountable.
---
🙌
You can get more done for the glory of God.
Get Started Today
Go from
overwhelmed

to

at peace
🛑 Stop feeling inconsistent, disorganized, and guilty
✅ Start having confidence that you are honoring God with how you spend your time
🔓 Unlock…
🎓 6 Complete Productivity Courses
🙋‍♂️ Weekly Office Hours with Reagan
💬 Private Community
📚 Book Club
🛠 Monthly Expert Workshops
🤝 Habit Challenges
And much more!
Join Redeeming Productivity Academy
Join the Waitlist
Sorry, registration for Redeeming Productivity Academy is currently closed.
Sign-up to be notified when it reopens.
"Nothing beats being in a community with people who care about the same things for the same reasons you care about them."

James Parker, Business Coach & RPA Member
---
FAQs
What's the format of the courses?
These are fully online, self-paced courses. The courses are made up of pre-recorded video lectures split up into modules that average 5-10 minutes each. There's also an accompanying workbook for each course along with exercises and additional resources.
What happens after I enroll?
You will get an email walking you through the steps to access the curriculum and community.
You'll be able to get started right away.
How long will I have access to the courses & community?
For as long as you remain a member of the Academy.
Do you have a refund policy?
RPA comes with a 30-day money-back guarantee. If you aren't satisfied for any reason, simply contact us within 30 days of purchase and we'll give you a 100% refund.
Is this a business expense?
Always consult with your accountant, bookkeeper, or tax professional, but many Academy members have been able to write off their enrollment as an education expense with their work or church. We are happy to assist you and provide documentation.
Here's a program overview PDF you can give to your employer if you need to request approval.
Will the price ever go up?
The price for RPA membership does periodically increase for new members. But we believe in rewarding loyalty. So current members always stay on the pricing plan they started with.
That means whatever price RPA is right now is the lowest it will ever be. Registering today locks in your membership rate for life. As long as you remain a member your price will never go up.
What if I previously purchased a course that's included in RPA?
If you've purchased any Redeeming Productivity course in the past 3 months, you can redeem the price of that purchase toward your first-year annual membership.
For example, if you purchased POWER Mornings for $97, the first year of your Academy membership would be just $153 ($250 – $97).
If you think you might qualify for this discount, send an email to [email protected]
Contact us with any questions
Send an email to [email protected]