Title: Anxiety: Knowing God's Peace
Author: Paul Tautges
Publisher: P&R Publishing
Genre: Devotional
Release: October 1, 2019
A New Devotional for Anxious Christians
If you've ever suffered from anxiety, you know the crippling effect it can have of your life. Forget personal productivity, you're just trying to survive. When you are dealing with anxiety motivation all but dies, tasks that were once routine are now plagued with fear and apprehension. You begin to feel foolish for the irrational fears but you don't know what to do about them. And then the guilt sets in. You've got things to do, duties to perform. You're stronger than this, you tell yourself. Snap out of it! You're a Christian, you're supposed to be anxious for nothing! But none of it seems to work. So, where does the anxious believer turn for help?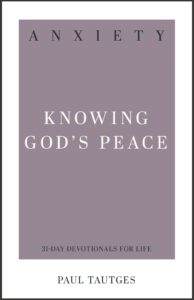 In his new 31-day devotional, Anxiety: Knowing God's Peace, Paul Tautges addresses the issue of anxiety from a biblical perspective. In the introduction he writes, "No matter what your anxiety looks like, the Bible speaks truth and peace into your mind and heart. Scripture directly addresses the anxious heart in helpful ways." (10).
Tautges's goal is to help believers struggling with anxiety to address it biblically, and ultimately to have anxiety replaced with its spiritual antonym, God's peace. He does this in three phases. First, he defines anxiety biblically. Second, he draws the reader's attention to God's character and promises. Third, he applies biblical wisdom to help weary souls turn and fight anxiety with God's resources.
I think believers of all stripes will find help and encouragement in this daily devotional. And what I love about this devotional is that it is encouragingly sympathetic, deeply biblical, and thoroughly gospel-centered.
Encouragingly Sympathetic
Sadly, believers experiencing anxiety often receive advice and comfort from one of two extremes. Well-meaning brothers and sisters sometimes brow-beat the suffering with unsympathetic judgment and arms-length advice. Conversely, others may come with sympathy but they coat your problems syrupy-sweet platitudes not grounded in Scripture or reality. They can appear as like the false prophets of Jeremiah's day who Yahweh says, "healed the wound of my people lightly, saying, 'Peace, peace,' when there is no peace." (Jeremiah 6:14). We need encouragement, but it needs to be grounded in the truth.
What Tautges does in this devotional is offer the sympathy of a brother who has walked the road of anxiety himself. He doesn't want to brow-beat you, but he also doesn't approach the topic with groundless sentimentality. Throughout this study, Bible in hand, he comes along side the suffering and offers true assistance. "I'm not a physician, but I am a 'soul doctor,' a pastor who wants to help you connect with the healing words of Scripture so that mental and emotional peace will reign in your heart despite any physical or circumstantial challenges." (11).
He achieves this end by only offering advice and wisdom which is firmly rooted in Scripture.
Deeply Biblical
I'll be honest, when I hear the word "devotional" I don't think "deep." But reading Anxiety has made me change my tune. Tautges's brief daily devotionals are individually full of deep biblical insight. And collectively, they build on each other as you read. So, many devotionals are simply randomly ordered, disconnected nuggets of truth, but this devotional has a defined focus and purpose. It's taking you somewhere.
Readers will walk away not just vaguely encouraged, but with a greater understanding of Scripture's wisdom for addressing the problem of anxiety. You will also be equipped to help others with these deeply biblical truths. And, as it should, this book continually points back to that supremely grounding biblical truth, the gospel of Jesus Christ.
Thoroughly Gospel-Centered
This devotional will not be helpful for everyone. And that's not a bad thing. It is a resource specifically for Christians.
For example, the lesson for day 14 is from Matthew 6 in which Jesus instructs his followers not to worry about food, drink, or clothing. The reason he gives is that "your heavenly Father knows that you need them all." (Matthew 6:31–32). This is a promise that can only be encouraging to those who can legitimately call God "Father"—those who are, in fact, children of God. And that is where Tautges places the focus: The fact that through the gospel of Jesus Christ we have been adopted as sons of God has a huge bearing on how we think about our circumstances (40).
Knowing and believing the gospel is the firm ground from which believers do battle with anxiety. So, it is encouraging to see that Tautges does not wander from the foundation, but continually directs readers to plant their feet firmly upon the Rock. After all, what greater source of hope and courage do we have than to know that we are children of the sovereign God of the universe and that He loves us as His own?
Conclusion
If you or someone you love is wandering in the fog of anxiety, why not dedicate a month to working through this 31-day devotional designed especially for the anxious? I'm confident that you will find hope and encouragement here, and most importantly, biblical truth that points you to Christ.
Anxiety: Knowing God's Peace by Paul Tautges is published by P&R and is available now.