Issue #16: Disabled likes, scripture memorization, a new note taking tool, remote work, and more.
---
Hey there!
Welcome to another edition of Reagan's Roundup, the weekly newsletter about personal productivity from a Christian perspective.
If the format looks different this week, that's because I switched email providers. Just trying to consolidate the services I use…so I can be more productive 😉
I've packed a lot into this issue, so let's get right into it!
– Reagan
---
This is a fascinating development in the world of social media. All users on Facebook and (Facebook-owned) Instagram now have an option for hiding like counts.
"Today, we're announcing that everyone on Instagram and Facebook will now have the option to hide their public like counts, so they can decide what works for them."
Like penicillin, the power of the now ubiquitous "Like" button was discovered quite by accident. But it has turned out to be one of the most addicting (and productivity-killing) features of social media.
Originally, Facebook introduced the Like button to streamline the most common comments on posts. As Cal Newport notes in his book A World Without Email,
"Facebook engineers noticed that many such comments were simple positive exclamations, like 'cool' or 'nice.' They figured that if those could instead be captured by clicking Like, the comments that remained would be more substantive. The goal of this tweak, in other words, was a modest improvement, but they soon noticed an unexpected side effect: users began spending more time on the service."
The Like button and like counts are now a part of every social media platform. It's how we keep score. It's also what makes social media so addicting. Social media companies like the Like button, because it keeps us coming back to their platforms, which means they can serve us more ads.
Given how much of their success is owed to this feature, it's interesting that Facebook would decide to even offer the option to disable like counts. The inevitable result, it seems, is that the people who hide like counts will spend less time on their platforms.
For most of us less social media would be a net benefit for our productivity. It would free up more attention for healthier activities. I would love to know the relationship between the rise of social media usage and the declines of Bible reading. I'd wager there is a pretty high correlation.
One take away from this is if you're looking for a way to spend less time on social media, consider taking advantage of this new ability to hide like counts. It comes short of deleting your social media profiles, but without the scoreboard being visible you'll probably find yourself checking in less and less.
---
🎙On the Podcast
Just about every Christian struggles to pray. In this episode, I discuss why that is, and offer some simple steps for how you can ensure that you are daily practicing this essential habit of every productive Christian.
The Redeeming Productivity Show is my weekly podcast on a biblical approach to personal development and productivity. Subscribe on your favorite platform.
---
▶️ New Video
We all want a deeper walk with the Lord. Yet, many Christians still struggle to read their Bibles consistently. In this video, I show you 8 tips for making Bible reading a daily habit.
---
🧑‍💻Happening on the Web
"Seeing all I have gained from memorizing the Bible, I do not regret a single moment I have invested."
Great insights from a guy who has been doing extended Scripture memorization for many years.
This is the same Andrew Davis who wrote the short book An Approach to Extended Memorization of Scripture. It's only $0.99 on Kindle if you're interested in the topic.
​Logseq: A Free Alternative to Roam Research​
Logseq is a privacy-first, open-source platform for knowledge sharing and management.
I was encouraged to come across Logseq earlier this week. It's basically a clone of Roam Research with two advantages:
Open Source (free)
Private control of your own notes
Logseq is still in alpha, and getting started is not for the faint of heart. But definitely a project worth keeping an eye on.
Westminister Bookstore has a Father's Day sale going now through June 1st, and ESV Study Bibles are currently half off.
Cal Newport, author of Deep Work, had an article in The New Yorker this week in which he mused about the future of remote work. He used authors as an example of knowledge workers who have been doing the WFH thing long before most of us.
"Professional authors are, in some sense, the original work-from-home knowledge workers. As we approach a post-pandemic world in which telecommuting will be more common, we might observe with concern how far these writers are willing to go to escape having to work in their actual homes."
Personally, I love working from home. I am so much more productive at home without the distractions of office social life. It doesn't even compare.
I have several friends, however, who were mentally done with the pandemic work-from-home stuff after just a few months. Newport thinks companies that plan to keep remote work permanent should make accommodations for these types of people.
"Here's my proposal: organizations that allow remote work should not only encourage these employees to find professional spaces near (but distinct from) their homes—they should also directly subsidize these cognitive escapes."
The nature of office work post-pandemic is not likely to ever go back to what it was. Remote work is here to stay in many industries. It would be wise, therefore, for Christians to be conscious of environment works best for them, both mentally and spiritually, and advocate with their employer for options that are best suited for that.
---
✍️Quote of the Week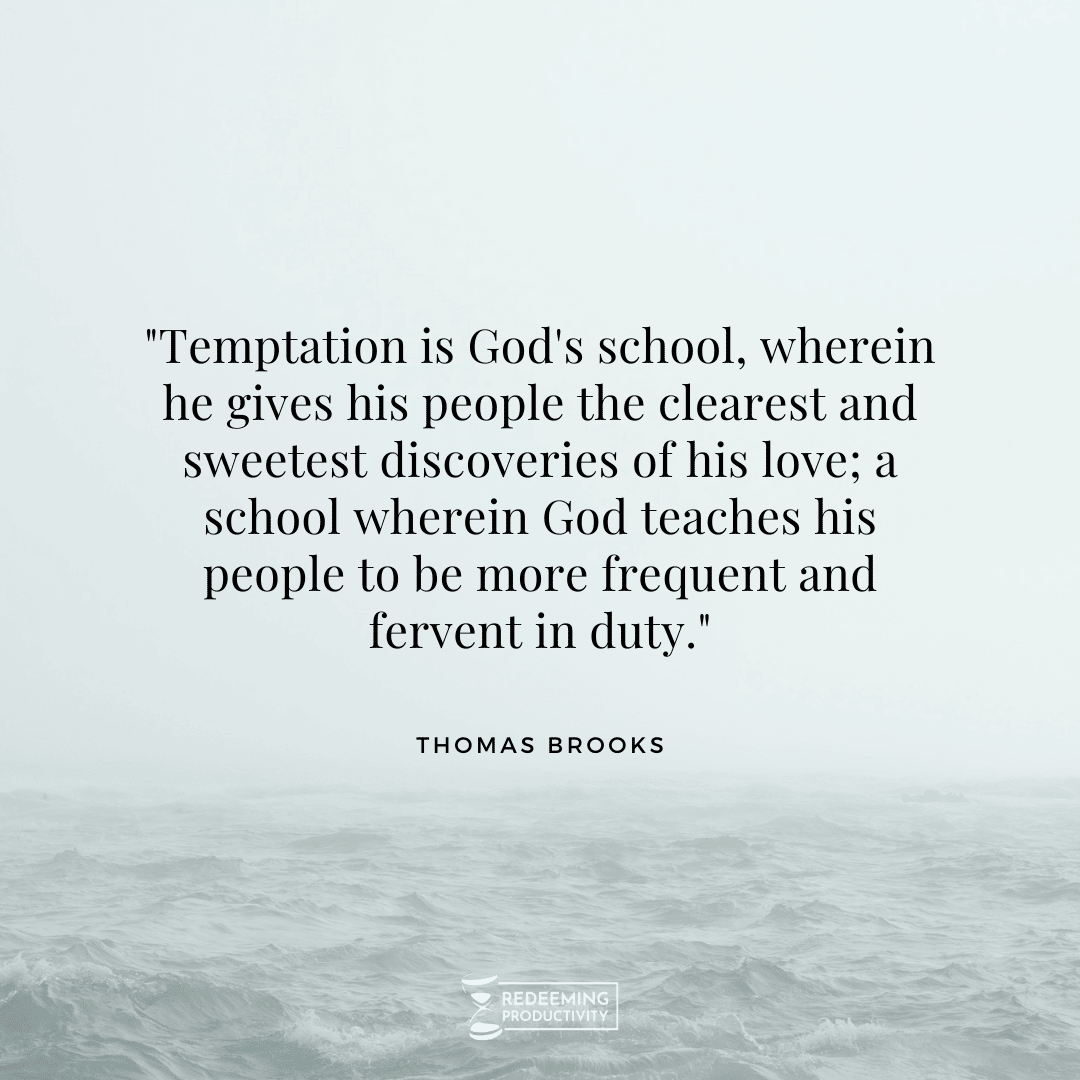 "Temptation is God's school, wherein he gives his people the clearest and sweetest discoveries of his love; a school wherein God teaches his people to be more frequent and fervent in duty."
– Thomas Brooks, Precious Remedies Against Satan's Devices​
---
⌛️That's All for this Week
Thanks for reading!
If you're enjoying the newsletter, share it with a friend. And as always, you can just hit reply to send me a message.
See you next week!
– Reagan