One of the most important tools in your productivity arsenal is a good task management system.
Task management apps are like a to-do list on steroids. And a good task management app will allow you to:
Quickly capture commitments and ideas
Organize them into projects
Set up reminders, so you never forget what needs to be done
Best Apple Task Manager: Things
My pick for the Apple ecosystem's best personal task management app is Things by Cultured Code.
This to-do list app hits the sweet spot between having all the bells and whistles but not being overwhelming to use. I spoke a little bit about how I use Things in my daily workflow on the podcast in the episode titled How I Organize My Day.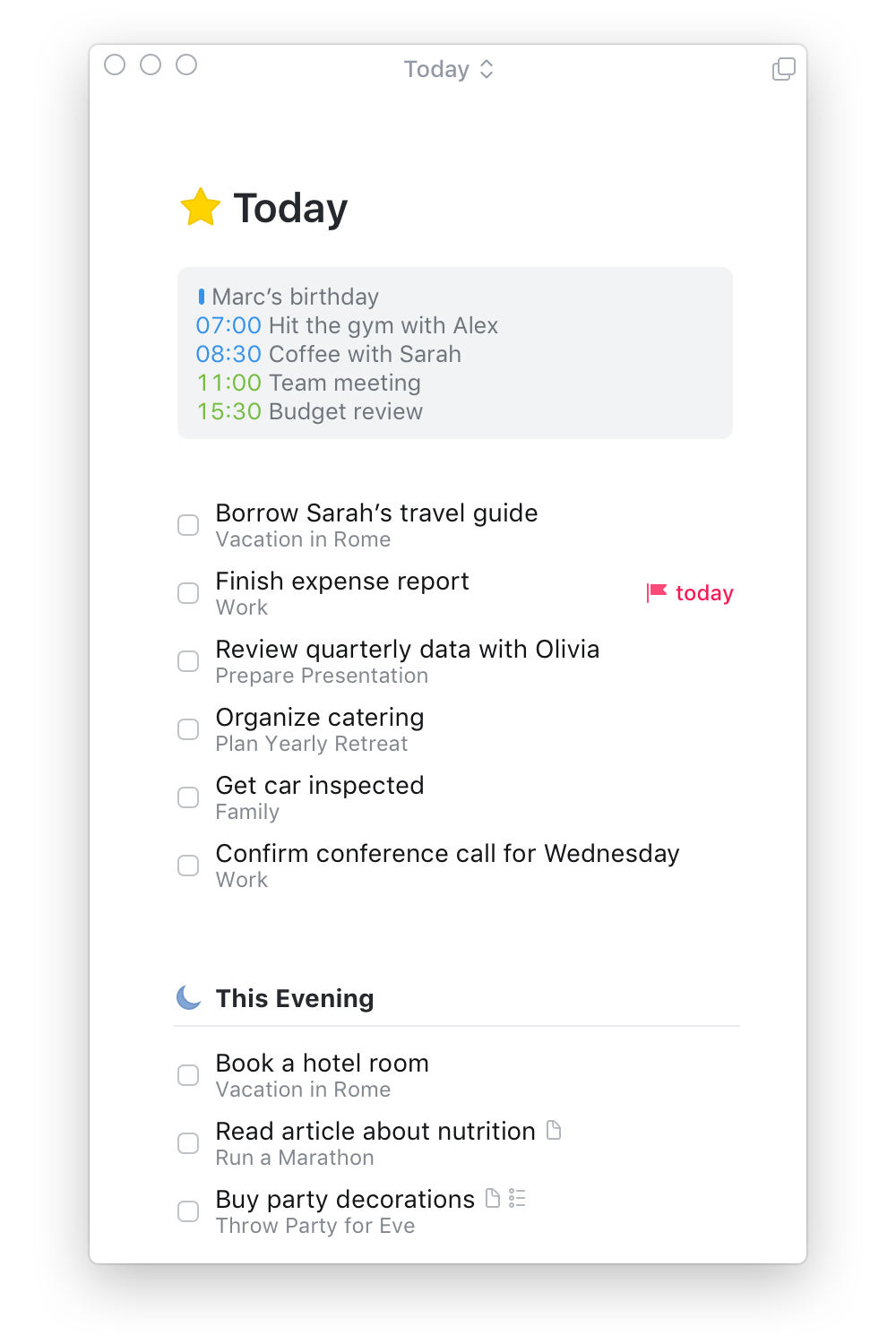 Favorite Features
The ability to hide projects in the "Someday" folder
Ability to tag things as "Today" instead of giving them a due date and having them pile up in an overwhelming list of "Overdue" items
Simple and inviting interface
It syncs across iPad, iPhone, and Mac
No subscription – you pay for Things once, and it's yours
Unfortunately, Things is Apple only, which brings us to my next pick…
Best Multi-Platform Task Manager: Todoist
I realize not everyone is an Apple user, and some people work across multiple operating systems. If that's you, Todoist might be for you.
Favorite Features
Really intuitive quick capture menu
Allows you to tag tasks by priority level
You can use Todoist with a team to delegate tasks
Projects can be viewed as Kanban-style boards
With 10+ apps and a web interface, you can use it anywhere
Now, I realize not everyone even wants to use an app to manage their tasks. Some people prefer to work with a good, old-fashioned pen and paper. Well, we've got you covered there too.
My favorite task management system for paper is the Bullet Journal method. The really cool thing about this paper-based task management system is that it doesn't require you to invest in an expensive planner. You can create a bullet journal from literally any notebook.
Favorite Features
Light-weight framework
Writing out tasks forces you to slow down and be more thoughtful
Robust community to inspire you with unique ways to use the system
If you want to see more about How the Bullet Journal works, check out How I Use the Bullet Journal Method to Steward My Attention by Emily Maxson.
To-Do Lists Done Right
The truth is just about any task management tool can get the job done. What's more important is understanding the principles of effective task management and how Christians should think about tracking our commitments.
In my course, To-Do Lists Done Right, I show you a practical system for keeping your commitments that will work with paper and pen or with the most advanced task managers.
Learn more about To-Do Lists Done Right.